We've been following a pair of penguins, Harry and Pepper, at the SF Zoo for almost two years now. When I first posted about them back in February 2007 they were a strongly-bonded, monogamous pair according to their keepers. Things changed last summer: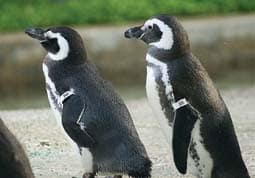 "Harry, a Magellanic penguin, received international attention this summer after he left Pepper, for the female penguin Linda. Harry and Pepper had shared a burrow since 2003 and zookeepers considered the same-sex pair one of their most devoted and stable avian partnerships.
The relationship came unglued when the recently widowed Linda took an interest in Harry, who soon moved into her burrow. The drama peaked when, in an apparent move on Pepper's nicer digs, Harry and Linda attacked Pepper. The three had to be separated and Pepper was sent to a bachelor pad at the zoo's Avian Conservation Center for the rest of the breeding season.
Cooler feathers prevailed after Pepper returned to the island, and he has since spent his days swimming, spending time with friends and generally 'being a penguin,' said Harrison Edell, the zoo's curator of birds."
Now Harry's health is failing: "…about two weeks ago, zookeepers noticed Harry coughing and watched his appetite diminishing. He was diagnosed with aspergillosis, a serious respiratory infection that can be fatal for penguins, Edell said. Veterinarians have moved Harry to a pool at the Avian Conservation
Center for treatment, and have brought Linda along to keep him company
during his convalescence."