Some follow-up on Tiwonge Chimbalanga and Steven Monjeza, the Malawian couple I posted about last week (see links below), who were arrested and charged with "gross indecency" following a ceremony at a local lodge. Media outlets had reported it as a marriage, but as John Duffell, a volunteer in southern Malawi explains eloquently on his blog, the ceremony was a chinkhoswe, or engagement ceremony, and Tiwonge identifies as female).
Duffell adds: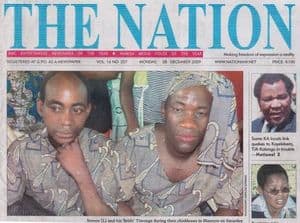 "Now, in Malawi, differentiating between a gay man and a transgendered
woman would probably just be seen as splitting hairs; many people here
would prefer not to acknowledge the existence of homosexuality (at
least in their own country), so as you might expect, gender identity is
an even more elusive conversation topic. Thus, the labeling game isn't
played so much – within and without Malawi's LGBT community.
Interestingly, the two appear to self-identify as a gay couple, rather
than as a heterosexual man and a transgendered woman; Steven says he's
never been interested in women, and that he finally realized he was gay
upon meeting Tiwonge (at church). At any rate, his lack of attraction
to the opposite sex doesn't seem to hinder his feelings for Tiwonge."
The Guardian reports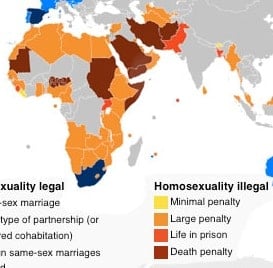 that as a result of the hearing on Friday, the couple may "face a humiliating medical examination aimed at proving they have had sexual relations" if the prosecutor has his way:
"The state prosecutor argued that the men had been living together as a married couple since August, and applied for them to be sent to hospital to prove they have had sex together.
The couple deny consummating their relationship, their lawyer, Noel Supedi, said. 'Up to the time of their arrests, there is no evidence they have had sexual intercourse,' Supedi told reporters. 'Unless they give their consent to the medical examination, we will protest. According to the constitution, only when someone gives their consent can they be subject to experimentation – and this is tantamount to experimentation.'
He added: 'It's difficult to say what the couple think about it, but my own assessment is they should not undergo a medical examination because it would be a humiliating invasion of their privacy. It would only be serving the interests of the state. It would infringe their rights.'
The men have denied all the charges against them, but remain in custody pending an application for bail on Monday."
And in an interview with the Times, the couple say they have been beaten in jail:
"Mr Monjeza said that he was drunk when they first met. But he
admitted that he sobered up later. 'I love the way he talked, the way
he loved me.' When it was suggested that he sounded apologetic and remorseful,
however, he expressed his doubts about the wisdom of their historic
confrontation with the conservative southern African state. 'Well, I
was drunk. I guess I wanted to be famous but I am now regretting.
Prison life is no good. I realised we have broken the laws. I am
calling this off. I am not crazy. I have another woman I intended to
marry but I loved Tiwonge. I guess I should apologise to that other
woman.'"
Chimbalanga appeared stronger, according to the paper, and made clear that he identifies as a woman:
"Unlike Mr Monjeza, he refused to accept that he had broken any law. 'Which laws? I am a woman, I can do what a woman can do,' he said. 'I
love Steven for what he is, he doesn't give me money. In fact, I do
everything for him, but love is love.'"
Added Chimblanga: "They beat us up here. Why? Why beating us? We have done no wrong. If they say we have broken
laws, why not let the courts judge us?…Well,
he is the one who proposed to me. I still love him though. Love is
between two people, the third one is a spoiler. The police is the
spoiler here."
More from Duffell here on the penal code, and the charges the couple may face.
On a related note, the map I posted above is informative of the larger legal picture in Africa. It's part of a broad map of same-sex marriage and homosexuality around the world. (via queerty)
Previously…
Court Orders Gay Malawian 'Married' Couple to Remain in Jail [tr]
Gay Malawian Couple Who Married in Symbolic Wedding Arrested [tr]
Two Men Defy Anti-Gay Laws, Wed in Symbolic Ceremony in Malawi [tr]