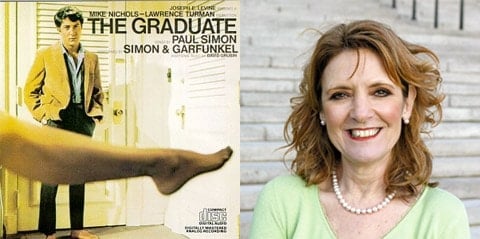 Downloads of Simon and Garfunkel's 'Mrs. Robinson' are up 1200% in
Northern Ireland following the Iris Robinson scandal in which the
anti-gay, evangelical lawmaker was discovered to have had an affair with a
19-year-old man.
There's currently a Facebook campaign to propel the song to #1 in the country.
The Belfast Telegraph reports: "Cheeky posters backing a Facebook campaign to make the Simon and Garfunkel song Mrs Robinson number one in the charts have begun to appear at a number of locations around Belfast.
This message was written on sheets draped over the gates of Stormont, while a similar banner was spotted on Balmoral Bridge on the Lisburn Road.
The campaign follows the success of a Facebook crusade at Christmas which pushed Rage Against The Machine to number one at the expense of X Factor winner Joe McElderry.
Mrs Robinson is currently in the Top 40 of the Amazon download chart."
Previously…
Will Homophobe Iris Robinson's Affair Bring Down the Government? [tr]