As of today, the nation's decades-old HIV Travel and Immigration Ban is no more. Immigration Equality's Steve Ralls reports in the Huffington Post that an HIV-positive gay man arriving today from The Netherlands will be the first to freely and safely enter the U.S.: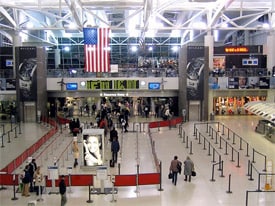 "The arrival of Clemens Ruland and Hugo Bausch will also signal the end
of a shameful and discriminatory policy that has exacted a heavy price
on our country's reputation in the scientific community and kept
countless individuals – both straight and gay – separated from their
loved ones."
On Top reports: "Ruland, 45, works with young people in the criminal system. He was infected in New York by an ex-lover and diagnosed HIV-positive in 1997. Anti Retroviral Therapy has kept his virus load undetectable. He returned to visit the U.S. once in 2005, but said he feared being detained. Bausch, 50, an illustrator, is HIV-negative.
The Dutch AIDS service organization SOAAIDS is behind the visit. Ruland entered a poem into the group's essay contest to win the couple's passage to New York City."
Said Obama on signing the order to lift the ban in October: "Twenty-two years ago, in a decision rooted in fear rather than fact,
the United States instituted a travel ban on entry into the country for
people living with HIV/AIDS.  Now, we talk about reducing the stigma of
this disease — yet we've treated a visitor living with it as a
threat.  We lead the world when it comes to helping stem the AIDS
pandemic — yet we are one of only a dozen countries that still bar
people from HIV from entering our own country. If we want to be the global leader in combating HIV/AIDS, we need to
act like it.  And that's why, on Monday my administration will publish
a final rule that eliminates the travel ban effective just after the
New Year.  Congress and President Bush began this process last year,
and they ought to be commended for it.  We are finishing the job.  It's
a step that will encourage people to get tested and get treatment, it's
a step that will keep families together, and it's a step that will save
lives. "
Previously…
Watch: Obama Signs Ryan White Act, Lifts 'Fear'-Based Ban on Travel and Immigration for People with HIV [tr]