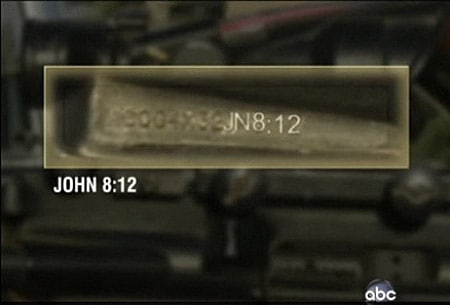 A Michigan contractor that received $66 million from the Defense Dept. in 2009 alone inscribes Bible verses into the sights of its combat rifles:
"The inscriptions are subtle and appear in raised lettering at the end of the stock number. Trijicon's rifle sights use tritium, a radioactive form of hydrogen, to create light and help shooters hit what they're aiming for.
Markings on the Advanced Combat Optical Gunsight, which is standard issue to U.S. special operations forces, include 'JN8:12,' a reference to John 8:12: "'When Jesus spoke again to the people, he said, 'I am the light of the world. Whoever follows me will never walk in darkness, but will have the light of life.'" … Mikey Weinstein, president of the Military Religious Freedom Foundation, says the biblically inscribed sights could give the Taliban and other enemy forces a propaganda tool: that American troops are Christian crusaders invading Muslim countries."
Proselytizing?
An ABC News video report on the guns HERE.
(via signorile)