Kate McGarrigle, Canadian folk singer and mother to singer Rufus Wainwright, has died at 63: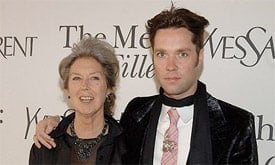 "It was reported last week that McGarrigle was 'critically ill' after her son, the singer Rufus Wainwright, cancelled his Australian tour to be with her.
Her doctor, Robert Tabah, confirmed the singer's death to the Guardian, saying: 'Kate McGariggle passed away yesterday (Monday 18 January) as a result of sarcoma, a form of cancer that she was first diagnosed with three and a half years ago.' The late singer apparently passed away at her Montreal home, where she was surrounded by family and friends."
A note on the family's website read: "Sadly our sweet Kate had to leave us last night. She departed in a haze of song and love surrounded by family and good friends. She is irreplaceable and we are broken-hearted. Til we meet again dear sister."