Rep. Christine Johnson (D-Salt Lake City) has announced that she's carrying a baby for a gay male couple: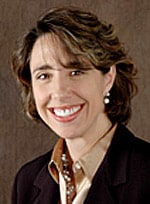 Johnson, D-Salt Lake City, said she decided to become artificially
impregnated with sperm from one of the men after the two close friends
expressed frustration over the difficulty of adopting a child. Utah law prohibits unmarried couples from adopting and does not recognize gay marriage. Johnson, 41, who has a 17-year-old daughter from a two-year marriage, is four months pregnant and expecting on June 21…Johnson offered to be a surrogate at no cost to save the Salt Lake
County men the prohibitive cost of hiring one – as much as $100,000. The men, who were married in California when gay marriage was legal, will pick up the medical costs."
Said Johnson to the Deseret News: "I can very much empathize with their desire to become parents and
share their lives with and open their hearts to a child. I'm immeasurably grateful to be a mother. Gender or sexual orientation is less important than children being
welcomed into a supportive, loving home. This child is going to have an amazing life."