Amnesty International calls on Malawi to release gay couple: "The arrest of the two men solely for their real or perceived sexual
orientation amounts to discrimination and it is in violation of their
rights to freedom of conscience, expression, and privacy."
News24 reports: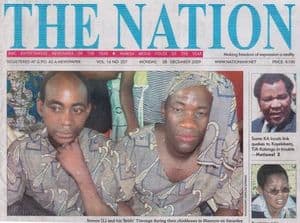 "The organisation said laws criminalising homosexuality and gender identity criminalised the legitimate exercise of human rights, which were protected in treaties ratified by Malawi, including the International Covenant on Civil and Political Rights and the African Charter on Human and Peoples' Rights. 'Under these treaties, Malawi has a legal obligation to respect and protect the right to freedom of conscience, freedom of expression and the right to privacy, without discrimination on the grounds of, inter alia, sexual orientation.'
Amnesty International said it considered individuals imprisoned solely for their consensual sexual relationship in private as prisoners of conscience and called for their 'immediate and unconditional release'."
Their church has thrown them out:"The pastor of a Malawi church attended by
two men arrested on homosexuality charges after they took part in a
public engagement ceremony has disowned both of them and says they are
unwelcome in the congregation."
Meanwhile, a Malawi rights groups has called for a referendum on legalizing homosexuality: "On Tuesday the Centre for Development of People (Cedep), which works
with homosexuals, said Malawi should hold a referendum to express the
country's views on the issue. 'We cannot run away from the fact that we have homosexuals in our midst,' said Cedep Executive Director Gift Trapeze. 'We need to rest this debate once and for all and we can do this
through consensus,' he added in a call backed by civil rights group
Justice Link."