While a case is underway in a Miami appeals court regarding Florida's ban on adoption by gay parents, a Miami-Dade Circuit Judge Maria Sampedro-Iglesia has delivered the third ruling against the ban, allowing a lesbian couple to adopt an infant relative, the Miami Herald reports: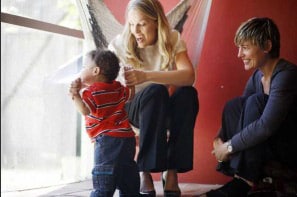 "While the 1977 law remains in limbo, Sampedro-Iglesia's ruling suggests some state court judges already have made up their minds about gay adoption, a thorny political issue in a state with a significant social conservative streak. 'There is no rational connection between sexual orientation and what is or is not in the best interest of a child,'' Sampedro-Iglesia wrote in her order. 'The child is happy and thriving with [Alenier]. The only way to give this child permanency . . . is to allow him to be adopted' by her.
In her ruling, Sampedro-Iglesia declared Florida's adoption law 'unconstitutional on its face.'
For Alenier, who shares a home near downtown Hollywood with her longtime partner, Melanie Leon, the ruling made formal what she already knew she had — a family."
Two judges, one in Miami,
and another
in Monroe County, have already declared the ban unconstitutional.
Anti-gay groups are battling those decisions.
You may have missed…
Crist on Lifting Gay Adoption Ban:
'I'd Have to Think About It' [tr]
Judge Who Struck Down Florida's Gay Adoption Ban Stripped of Post [tr]
Activists Demand Gay Adoption, End to Discrimination in Florida [tr]
Florida Lawmaker Files Bill to Repeal State's Gay Adoption Ban [tr]