You may recall the September anti-gay attack on Blake Hayes and his friends in Hell's Kitchen in New York City. Hayes filed a complaint about the incident because the NYPD refused to take a report. The Hate Crimes Task Force went to work after that on the case. The attacker, who was captured on surveillance video, has now been identified as Air Force Staff Sergeant Benjamin Ford, a specialist in defusing bombs who was in New York to help protect Obama during a visit to the UN. The incident: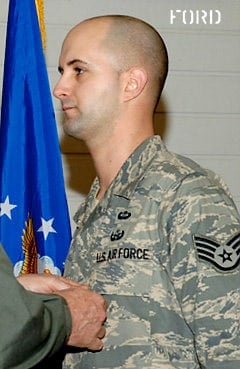 "Ford was outside McCoy's Bar in Hell's Kitchen in the early hours of Sept. 26 when the attack went down, police said.
Hayes and two friends, Alec Bell and Danny Calvert, say Ford flicked a cigarette at them, then told Calvert, 'Keep moving, faggot.'
He also allegedly called Bell a 'homo.' Bell and his pals returned fire by making fun of the suspect's baldness, cops said.
That's when things exploded.
Hayes told cops that Ford shoved him and Calvert and then clocked Bell in the face. 'Die of AIDS, you f—— queers,' Ford allegedly yelled at the trio before going back inside the Ninth Ave. bar."
Now, according to the Daily News, there's likely to be a prosecution, as the Task Force tracked Ford down to a base outside of London:
"A NYPD Intelligence Division detective who is stationed in London drove to the base and interviewed Ford, who admitted he was at the scene but insisted his alleged victims started the fight, a source said.
Surveillance video, however, shows Ford attacking them, the source told the Daily News.
In an added twist to the case, the NYPD and Manhattan prosecutor's office, after consulting the three gay victims, have agreed to let the U.S. military try Ford and dole out any punishment if he is found guilty in the attack, sources told The News.
Ford has not been formally charged."
Previously…
NYPD to Victim of Anti-Gay Attack: 'It Has to Be Something Bigger' [tr]
Man Gay Bashed in NYC, Claims NYPD Negligent in Response [tr]