Ugly Betty actor talks about his sexuality in a new interview with The Advocate as the play he is starring in, The Temperamentals, about early gay rights activist Harry Hay, prepares for its third engagement.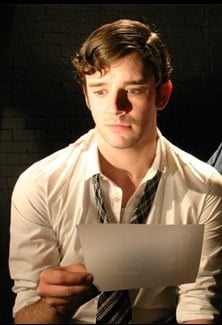 "I've never been in. I've never said I was
straight, and I'm not saying I'm gay now. I never lie, and I've never
shied away from the topic. I've certainly chosen through my work to do
things that promote the rights of LGBTQ people. I am not a
hypocrite—certainly not now."
Urie says he identifies as "queer":
"I've been in a relationship for a while now, and if you just met the
two of us together we'd be 'gay.' But that somehow
means anything that happened before [we met] didn't count—and I don't
feel that way. I know that some people feel that way. They were with
women, but it always felt wrong. But it didn't for me. It felt right at
the time. It didn't work out, but it also didn't work out with other
men—many times. That's why 'gay' never seemed right….Certainly there was a point where I was like, I don't know how long Ugly Betty
is going to last and how well it's going to do, and I might want some
real anonymity if it ends quickly. I was also never one to seek out
publicity or attention, and I basically didn't want to be labeled. That
kind of attention could turn ugly. I guess if I wasn't in a
relationship with a man and I tried to tell people I was queer, it
would appear to be a lie or a cop-out—à la college 10 years ago, when
people believed in that notion of 'bi now, gay later.' But things are
different now. I'm much more comfortable, and I'm in a relationship
now. I'm not as worried about a future for myself."