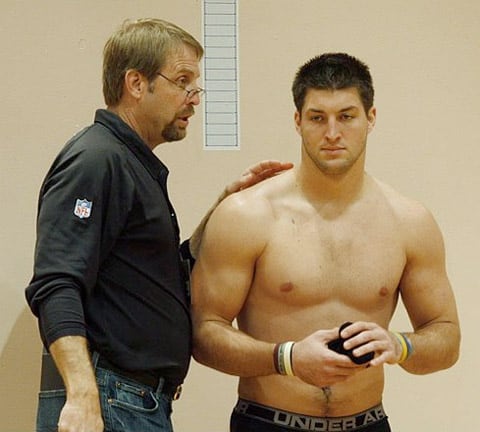 A coalition of women's groups — the New York-based Women's Media Center, the National
Organization for Women, the Feminist Majority and other groups — asked CBS to reject a Super Bowl ad featuring University of Florida quarterback Tim Tebow and his mother placed by anti-gay, pro-life evangelical group Focus on the Family, the AP reports.
Said the coalition's letter: "By offering one of the most coveted advertising spots of the year to an
anti-equality, anti-choice, homophobic organization, CBS is aligning
itself with a political stance that will damage its reputation, alienate
viewers, and discourage consumers from supporting its shows and
advertisers."
According to the WaPo, "[Focus spokesman Gary] Schneeberger said CBS officials carefully examined Focus on the Family's
track record and found no basis for rejecting the ad."
Schneeberger keeps talking about the content of the ad, which is not why people are objecting. It's the organization, stupid:
Focus on the Family
donated $727,000 to the Proposition 8 campaign to ban same-sex
marriage in California. Its founder, James Dobson, has been outspoken
against gay issues, most
recently the federal hate crimes bill.
And where is our advocacy group on this? Why hasn't GLAAD fired off a letter to CBS? Where's the part in the AP story about that???
Above, Tebow at a weigh-in today for the Senior Bowl (via TMZ). Tebow defended his participation in the ad over the weekend.
Previously…
Tim Tebow Shoots Super Bowl Ad for Anti-Gay Focus on the Family [tr]
Tim Tebow Defends Participation in Super Bowl Ad for Evangelical Anti-Gay, Pro-Life Group Focus on the Family [tr]