Two Miami Beach police officers harassed a gay man who saw them abusing a suspect, according to the ACLU. Unfortunately for them, they didn't realize he was on the phone with the 911 dispatcher at the time the cops came at him, hurling anti-gay epithets.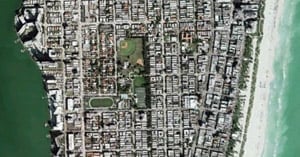 As the gay man, a tourist from L.A. named Harold Strickland, reported the call the officers came at him, finally grabbing his cell phone.
"A few seconds later, the line went dead.
Strickland later told the ACLU that Forte and Hazzi grabbed his cellphone and disconnected the call. 'The officers then told Strickland: 'We know what you're doing here. We're sick of all the f—ing fags in the neighborhood.' The officers pushed Strickland to the ground and tied his hands behind his back,' [Robert F. Rosenwald Jr., director of the ACLU Florida's
Lesbian-Gay-Bisexual-Transgender Advocacy Project] wrote in an ACLU letter delivered Wednesday to Miami Beach Mayor Matti Herrera Bower.' While Strickland was on the ground, the officers continued to spew anti-gay epithets. They called him a 'f—ing fag' and told him he was going to `get it good in jail.''
Bower and City Manager Jorge Gonzalez also declined to comment."
The officers are still on duty and the subject of an internal investigation. Rosenwald said the harassment of gay men by the police has been happening in Miami Beach "for a long time."