Late on Tuesday, the New York state senate voted 53-8 to expel Senator Hiram Monserrate, convicted last year of attacking his girlfriend, slashing her face with glass, and dragging her through his apartment building.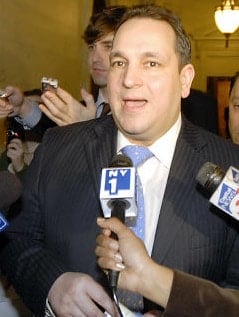 As you may recall, Monserrate is a Democrat from Queens who voted against the marriage equality bill when it came up late last year.
The NYT: "…rather than bringing the issue to a close, the expulsion vote could be the beginning of a lengthy legal fight that could create further instability in Albany's volatile political atmosphere. Mr. Monserrate said on Tuesday that he planned to run in the special election.Even as the Senate moved forward with the vote, Mr. Monserrate's lawyers were drafting a temporary restraining order seeking to have him reinstated. One of the lawyers, Norman Siegel, said the order would be filed Wednesday in federal court in Manhattan."
The NYDN: "The defiant Queens Democrat told the senators he hopes none of them slip up one day and find themselves "at the mercy of certain colleagues with unfortunate political agendas."He also apologized to his colleagues and asked for their 'forbearance and foregiveness.''I know that my behavior has brought unwelcome discredit to this chamber, and for that, I am deeply sorry,' he said. 'But, as Rev. Jesse Jackson once said, 'God isn't through with me yet.''Gov. Paterson on Tuesday night immediately called a special election for March 16 to fill Monserrate's seat."
Several buddies of the anti-gay girlfriend beater voted against his expulsion, including: Ruben Diaz, Pedro Espada, Martin Dilan, Carl Kruger, John Sampson, Eric Adams, Kevin Parker and Monserrate himself.
Watch Diaz and Espada speak before their votes, AFTER THE JUMP…