The last we heard from Colin Powell, on CNN's State of the Union in July of last year, was that he supported "review" of the "Don't Ask, Don't Tell" policy. Following yesterday's hearings by the Joint Chief Chair Mullen and Defense Secretary Gates, Powell now says he supports it.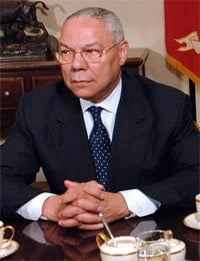 General Powell released a statement to the NYT: "In the almost 17 years since the 'don't ask, don't tell' legislation
was passed, attitudes and circumstances have changed. I fully support the
new approach presented to the Senate Armed Services Committee this week
by Secretary of Defense Gates and Admiral Mullen."
The paper notes: "When Mr. Clinton tried to end the ban on gay soldiers, General
Powell was the Joint Chiefs chairman and opposed the move on the
grounds that it would undermine discipline and order in the military
but he supported the 'don't ask' compromise. In his statement on
Wednesday, General Powell said 'the principal issue has always been the
effectiveness of the Armed Forces and order and discipline in the
ranks.' He noted that he has said for the past two years that it was "time
for the law to be reviewed," but his new statement of unequivocal
support for the effort by Mr. Gates and Admiral Mullen could be an
important factor as the debate moves forward this year."
Advocate has Powell's full statement.