Lawmakers on Capitol Hill are expected to hear testimony from the Service Chiefs this week on whether or not the military is ready for the "Don't Ask, Don't Tell" repeal, the AP reports: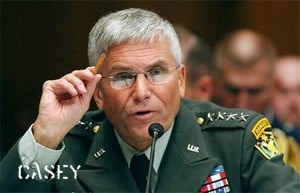 "The testimony from each of the service chiefs on Capitol Hill will be crucial to the debate in Congress on whether to repeal the 17-year-old law, which bans gays from serving openly in the military…While Mullen says he believes the ban should be lifted, he has said he can't speak for the service chiefs other than to say they support Gates' yearlong assessment.
The service chiefs are scheduled to testify separately throughout the week, with the Army's Gen. George Casey and the Air Force's Gen. Norton Schwartz going first on Tuesday. Marine Corps Commandant Gen. James Conway, who is said to oppose changes to the policy, will testify on Wednesday."
And here's another look at what's going on within the forces:
A younger and more liberal corps of soldiers has given rise to a degree of tolerance in today's military, an institution soldiers describe as still largely unwelcoming of gays, according to interviews with more than a dozen enlisted troops and officers, both gay and straight.
Underground gay communities have emerged at bases across the United States and even in war zones. In Iraq, one e-mail group maintained by gay troops includes a database where soldiers post their instant-messaging screen names and the base where they're stationed. Dozens have profiles on gay dating sites, some posing in uniform.




In recent years, service members and researchers say, a growing number of gay troops have disclosed their sexual orientation to supervisors and comrades. They say they are buoyed by a sense that wartime commanders are increasingly reluctant to lose skilled troops to a ban many now view as archaic.