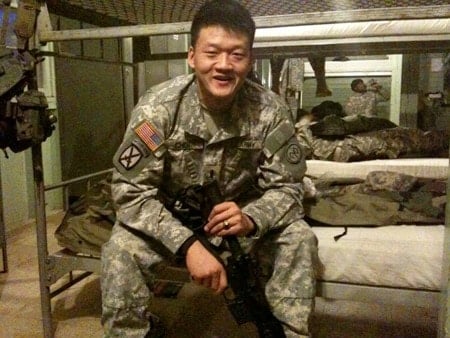 Lieutenant Dan Choi, a prominent face of the "Don't Ask, Don't Tell" debate since he was threatened with discharge and announced the formation of Knights Out in early 2009, is back in active service, Jeff Sheng at Bilerico Project reports:
"To clear everything up for our readers, I spoke to Lt. Choi at length
earlier about what exactly the situation is. Apparently, Lt. Choi's
commander has always been in full support of him, and even after Lt.
Choi came out on The Rachel Maddow Show, his commander did not press for
his discharge. The military did eventually serve Lt. Choi a discharge
notification – essentially firing him from his job, but he was allowed
to fight this at trial, and as it currently stands, the discharge has
not been finalized. Given the current state of how DADT is in such
flux, and also, in my opinion, the prominence and celebrity of Lt. Choi,
his discharge might never be fully enforced."
So what is Choi's new role in the debate now? Said the Lieutenant to Sheng: "Actions speak louder than words."