Hochberg's remarks come at the end of this segment: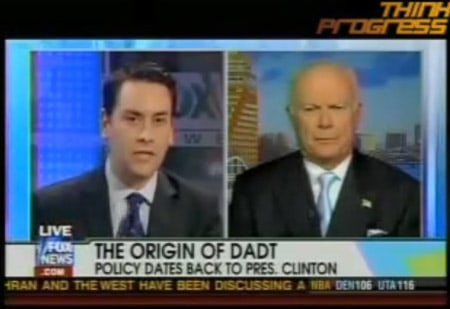 FOX News Military analyst Colonel David Hunt calls "Don't Ask, Don't Tell" an "abject failure" and Fox & Friends joins the chorus of those calling for the repeal, calling McCain "just wrong" on his position.

Fred Hochberg, head of the U.S. Import-Export Bank chimes in on "Don't Ask, Don't Tell" during an interview with ABC News, saying "[Mullen] understands that this is a cultural change in the military… It is moving. It is moving as rapidly as it can."
Watch both clips, AFTER THE JUMP…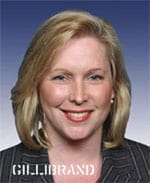 The Advocate's Kerry Eleveld says that Kirsten Gillibrand's proposal to cut off funding related to military procedures surrounding DADT is being met with caution by advocacy organizations in Washington, like SLDN, saying it might disrupt the process underway in the Senate Armed Services Committee. Said Aburey Sarvis of SLDN: "It's helpful to talk about cutting funding for 'don't ask, don't tell' discharges, but we must be strategic about when such a move would be made and now is premature."

The Military Times has published the results of a "Don't Ask, Don't Tell" survey. The paper reports: "An exclusive survey of some 3,000 active-duty troops shows such opposition has fallen sharply from nearly two-thirds (65 percent) in 2004 to about half (51 percent) today."

The Palm Center is planning a summit on DADT that will highlight the experiences of other nations that allow gays and lesbians to serve openly in the armed forces.


Senator Jack Reed (D-RI) was asked about DADT on Bloomberg's Political Capital over the weekend. He said that the process could stretch into next year. Said Reed: ""I thought the secretary and chairman were both appropriately supportive of the policy change. But also recognizing that there has to be not only a decision but also an implementation plan. I would hope that we're talking about within this year or next year."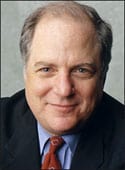 NYT columnist Frank Rich's Sunday column focused on the silence of the right on DADT following Joint Chiefs Chair Mike Mullen's testimony last week: "It's in this political context that we can see that there may have been some method to Obama's troublesome tardiness on gay issues after all. But as we learned about this White House and the Democratic Congress in the health care debacle, they are perfectly capable of dropping the ball at any moment. Let's hope they don't this time. Should they actually press forward on "don't ask" in an election year with Mullen and Gates on board — and with even McCain's buddy, Joe Lieberman, calling for action "as soon as possible" — they could further the goal and raise the political price for those who stand in the way. "
Watch FOX News and Hochberg clips, AFTER THE JUMP…