Golden State Warriors announce first 'Gay Night'.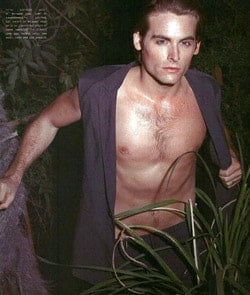 Kevin Zegers emerges
from the underbrush for Flaunt.

Ellen Degeneres and Simon Cowell sitting on different ends of the table for a reason.

Massachusetts Senator Scott Brown dined with teabaggers and anti-gay hate group before voting with Harry Reid.

HUD seeks help with anti-gay discrimination study: "Starting Thursday, the U.S. Housing and Urban Development Department will enlist residents in three cities with large gay populations – Chicago, New York and San Francisco – to offer ideas on how such a study should be conducted."

Madonna gets Jesus a
record deal.

Citibank blocks account of gay start-up Fabulis because of "objectionable content." "Do I think Citibank or Citigroup is a homophobic malicious company? No. Do I think some compliance officer is a moron who made a really stupid decision? Yes. Three hours of trying to sort this out provided even more comedic insanity than I even revealed on the blog post. Including a bank manager who didn't want to talk about this because she was uncomfortable talking about the content of our blog over a recorded phone conversation." TechCrunch weighs in. Citi responds. Chapter ends.

Watch: The NSFW trailer for Showgirls 2.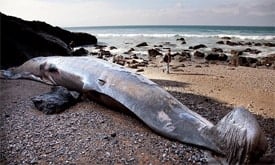 Massive fin whale washes ashore in England.

Evita revival coming to Broadway.

Presbyterians to ordain gay minister: "A regional governing body of the largest Presbyterian denomination in the country has voted to ordain a gay Madison man with a long-term partner, bucking national church policy that bars gays and lesbians in open relationships from the ministry and perhaps setting a precedent. The decision Saturday in Madison by the John Knox Presbytery of the Presbyterian Church (USA) is expected to have a national impact and be challenged by opponents."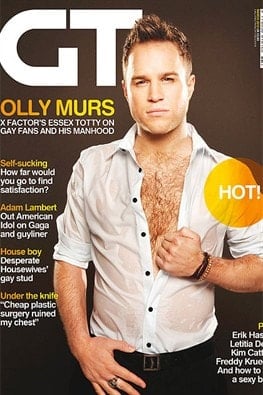 X-Factor
contestant Olly Murs enjoyed
playing "gay chicken" with fellow contestant Danyl Johnson: "Gay
chicken is this game where you lean in to kiss someone and you await to
see who turns away first.  We were leaning in and laughing, but then
Danyl actually closed his eyes! I've always been really open-minded. I
don't judge people."

J Lo to host SNL this Saturday.

UK gay man wins discrimination claim against company that tried to "de-gay" his pub: "The former assistant manager said he had been ordered to put up a sign outside that said 'This is not a gay pub' and made to reprimand a homosexual couple for their overtly romantic behaviour, before being told he was 'another kind of gay'…The firm was ordered to pay Mr Lisboa £4,593.75 in compensation."

The New York Post's Andrea Peyser is not interested in a sexy firewoman.

Homophobic bullies in UK taking their conquests to YouTube: "It is the most recent development in the ongoing problem of homophobic bullying, which remains a major issue even as Brent Council has begun a concerted effort to tackle it.
Youth worker, Lukasz Konieczka said the latest way in which some youngsters were being bullied was through group attacks known as 'rushing,' which are then broadcast on the internet."