In a discussion of the 'Don't Ask, Don't Tell' hearings, Hardball's Chris Matthews gave a forum to the Family Research Council's Peter Sprigg and laid his homophobia bare for all to see. If you've been reading this site, you are familiar with Sprigg.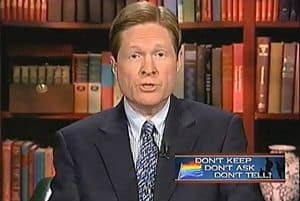 Sprigg has criticized Obama's awarding of the Presidential Medal of Freedom to Harvey Milk, calling it "the first time in history that the nation's highest civilian award hasbeen granted primarily on the basis of someone's sex life."
Sprigg has also said gays shouldn't be near children: "Homosexuality is associated with higher rates of sexual promiscuity, sexually transmitted diseases, mental illness, substance abuse, domestic violence, and child sexual abuse, and those are all reasons for us to be concerned about placing children into that kind of setting."
And he has said gays should be deported from the U.S. rather an allowed to immigrate: "I would much prefer to export homosexuals from the United States than to import them into the United States because we believe homosexuality is destructive to society."
Last night, Sprigg spewed more of his anti-gay rhetoric, finally admitting that he believes homosexuality should be criminalized in the U.S.
Watch, AFTER THE JUMP…