Air Force Staff Sergeant Benjamin Ford, accused in the September 2009 NYC anti-gay assault on Blake Hayes, Alec Bell, and Danny Calvert, and recently tracked to a base outside of London, has been stripped of his rank and disciplined by the military, the NY Daily News reports: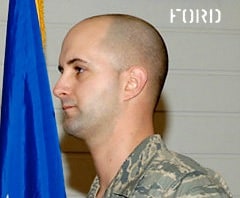 "Air Force Staff Sgt. Benjamin Ford, a master at defusing bombs, accepted
the charges against him rather than face a court-martial, said victim Blake Hayes,
who was informed of the punishment by an Air Force Lt. colonel. 'Die of AIDS, you f—– queers!' Ford screamed during the attack. He
copped to three counts of assault and battery and other charges. Ford
also wrote apology letters to Hayes and his pals.
Ford was a Bronze Star recipient. There is no word on any further prosecution.
Previously…
NYC Gay Basher Id'ed as Air Force Sgt Stationed Near London [tr]
NYPD
to Victim of Anti-Gay Attack: 'It Has to Be Something Bigger' [tr]
Man
Gay Bashed in NYC, Claims NYPD Negligent in Response [tr]