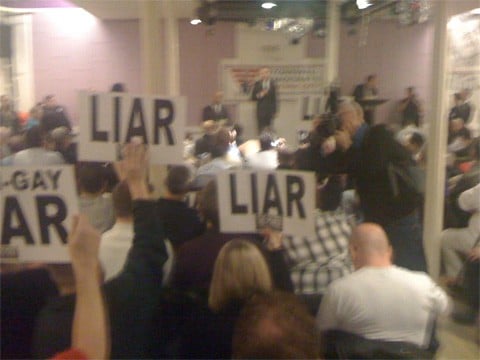 Photo above via DailyKos.
From all reports, potential Senate candidate Harold Ford Jr. faced a tough crowd tonight as he spoke to the Stonewall Democrats at the New York Lesbian, Gay and Transgender Community Center: "They said they don't trust him and shouted that he is 'anti-gay.'Ford said all he can do is explain he was wrong in the past and has changed his mind."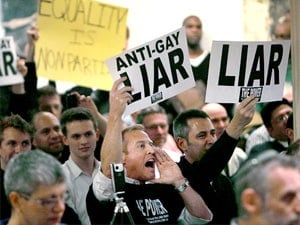 DailyKos reports:
"This did not go well for Harold. If he had supporters, it was not evident… If not for the efforts of organizers, it would have devolved into a real scene. The loudest applause came when Lt. Dan Choi expressed support for incumbent Senator Kirsten Gillibrand. He told Ford he seemed to be asking our community to 'fire her' to reward her for her fierce advocacy. Ford didn't do himself any favors by asking a questioner to clarify what 'Lawrence v. Texas' was. Ladies will be glad to hear the room was equally activated when Ford tried to distance himself from his pro-life past."
"Some defended Ford for changing his mind.'He has a right to change his view,' said Charles Bayor, Stonewall's secretary. 'I give him credit for coming here … It's not fair to treat him with disrespect.'Lt. Dan Choi, the National Guardsman who has become a vocal opponent of Don't Ask, Don't Tell, was at the meeting and questioned Ford on the policy.Ford said he fully supports repeal. But for Choi and others, that may not be enough — especially since Gillibrand has become a public opponent of the policy, which bans openly gay men and women from serving in the military.'You'd be punishing our only advocate in the Senate,' Choi said.'You can count on me to do the same thing' as Gillibrand, Ford responded."
The NY Daily News files its report here.
Some initial video (with plenty of heckling) shot by David Badash (read his report here) at The New Civil Rights Movement, AFTER THE JUMP…