Tim Gill and some other well-funded advocates have funded a political action committee, Fight Back New York, that plans to aggressively remove New York State senators who have opposed marriage equality, the NYT reports.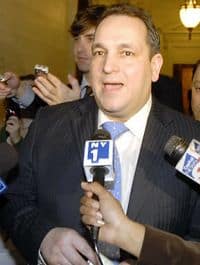 The first target is Hiram Monseratte (perhaps a little easier target than some others, given his felony conviction):
"The committee will start going after Mr. Monserrate, who was convicted of assaulting his female companion in a confrontation that left her requiring more than 20 stitches, by mailing fliers this week to voters in his district. The flier shows still frames of a surveillance video that shows him dragging his companion, Karla Giraldo, through the hallway of his apartment building in Jackson Heights, Queens. He was acquitted of a felony assault charge by a judge, who convicted him of misdemeanor assault…In the three weeks that remain before the election, Fight Back New York expects to send out at least five different fliers, upwards of 100,000 pieces of mail."
Fight Back New York's website is scheduled to go live tomorrow.