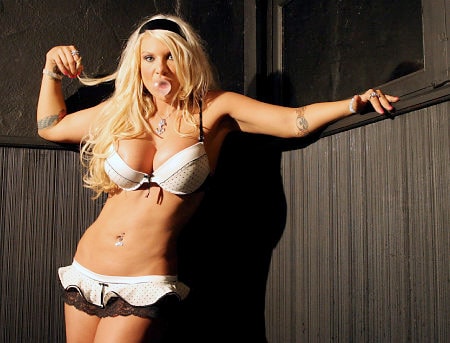 As rumors swirl about a "career-ending" ruinous scandal for New York Governor David Paterson, the Daily News profiles a candidate with an eye on his job — "Manhattan Madam" Kristin Davis:
"Davis has spoken in the past about running against former Gov. (and alleged former client) Eliot Spitzer – to draw attention to the fact that she served nearly four months on Rikers Island while Client 9 escaped indictment. 'This started out being about Spitzer,' admitted Stone, who in 2007 tipped off the FBI to Spitzer's hooker habit. 'But now that it looks like he won't run, Kristin still wants to use her celebrity to highlight a reform agenda.'
Davis laid out her credentials last weekend at a Libertarian Party convention on the lower East Side. 'I was valedictorian of my high-school class,' said the golden-tressed Davis, sporting a modest black suit but wicked Christian Louboutins with 5-inch heels. 'I worked 10 years in finance. I was vice president of a hedge fund. I went on to build a multimillion-dollar business from scratch.'
While branding 'taxation as confiscation,' the former escort empress said the legalization of prostitution and marijuana could provide $2.5 billion in revenue to help close the budget gap. 'I'm a natural Libertarian,' said Davis, who also embraces gay marriage and the views of the National Rifle Association."
(via the advocate)