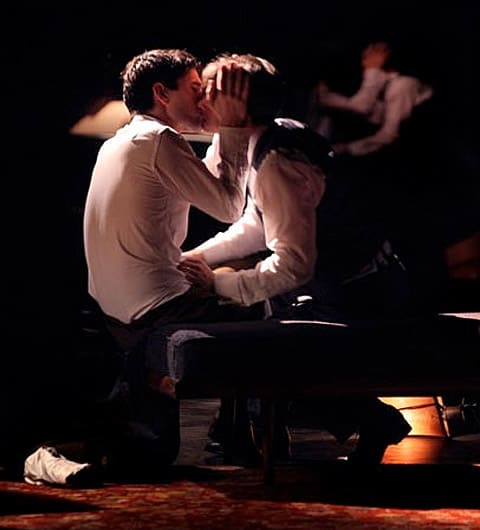 Ben Whishaw and Hugh Dancy share an intense kiss in The Pride, which opens on February 16 off-Broadway at NY's Lucille Lortel Theatre.
The NYT writes: "In a story that flips seamlessly between this century and the last, Mr. Whishaw plays two gay men living in London, both named Oliver, who struggle with the emotional costs of a pre-Stonewall romance (for the Oliver of 1958) and the post-Stonewall psychosexual consequences (the Oliver of 2008). Mr. Dancy plays Philip, Oliver's equally conflicted love interest in both decades.' Maybe it doesn't conform to the model of a romance,' Mr. Whishaw said of Mr. Campbell's script, 'but it does have some of those ingredients, and it definitely has a political edge to it. It's partly about somebody becoming politicized in a way, or aware that everything you do is in some way a political action.'"
In related news, you may have missed the Ben Whishaw "controversy" from late last month when he appeared to be out of the closet in one publication, and in it in another.