Missouri Southern State University board member David Ansley has resigned following uproar (so to speak) over his characterization of the school's former mascot logo as a "fag lion," the Joplin Globe reports: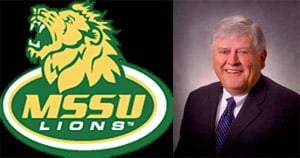 "During Saturday's retreat, MSSU Athletic Director Jared Bruggeman was discussing changes the athletics department has made to give a more consistent appearance, including revamping the school's lion logo before the start of the 2007-08 school year.
Ansley voiced his approval for the change during the meeting by saying, 'We went from the f– lion to the ferocious lion.'
Board Chairman Rod Anderson immediately looked at reporters who were covering the retreat meeting at the university and said, 'That's off the record.'"
Ansley resigned Monday, following the formation of a Facebook group calling for him to quit:
"In a written statement Monday, Ansley apologized to students, faculty, staff and administrators for any offense, and expressed remorse for his actions.
'I have always thought of myself as a tolerant man,' he wrote. 'Yet the fact that I spontaneously made the comment has caused me pause. Personally, I am conducting introspection. My goal is to examine my own prejudices with the hope of renewed tolerance. I hope to be a better person because of all this.'
A faculty adviser for a student group advocating equal rights on campus said Ansley's resignation will not make the issue of sexual orientation discrimination disappear."