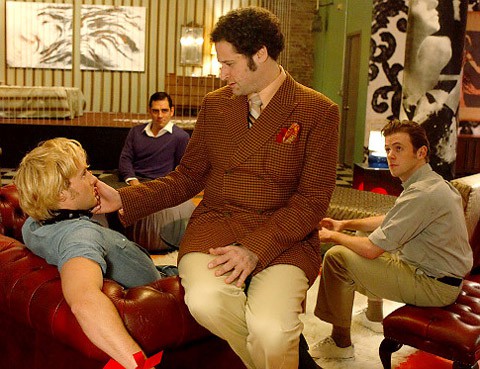 A revival of Mart Crowley's landmark gay play The Boys in the Band has opened in a penthouse on 26th street in NYC:
"A butterfly-on-the-wall staging of 'The Boys in the Band' situates its gay New Yorkers at finger-tip proximity to the audience, providing a fresh, voyeuristic tingle to the birthday party doings of Mart Crowley's 1968 comedy-drama…Designer Sandra Goldmark transforms the space into a loft-like apartment where the play's boozing and bitchery occurs. Some tasteful '60s-style furniture is arranged mostly in the middle of the living room area while a bedroom is placed in a raised alcove at the far end. Expansive windows offer dramatic north and south midtown views, but the designer has positioned 99 padded chairs in two rows all around the room to focus inwards upon the drama brewing at the apartment's center."
The production is being staged by the Transport Theatre Group through March 14.