A short time ago during a speech at CPAC, former GOP Senator Rick "man on dog" Santorum told those attending that military leaders had been "indoctrinated" with political correctness, forcing them to accept repeal of the "Don't Ask, Don't Tell" policy, the Huffington Post reports: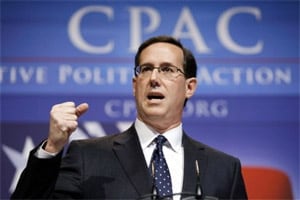 "Addressing how the military leadership, led by Joint Chiefs of Staff Chairman Mike Mullen, could now favor a repeal of the law, Santorum raised the specter of brainwashing.
'Political correctness is reigning in the military right now,' he said. 'People say [on DADT] listen to the military brass. I'm not too sure that we haven't so indoctrinated the officer corps in this country that they can actually see straight to make the right decision.'
The line went over well with the CPAC crowd."
Added Santorum: "My thoughts are this. The military is there for one purpose and one purpose only, and that is to protect and defend the United States of America. We have a volunteer army. They can un-volunteer too."
I'll post video if/when it becomes available.