Welsh rugby star Jonathan Thomas apologized yesterday for an exchange with a fellow player on Twitter which made a joke about gay referee Nigel Owens: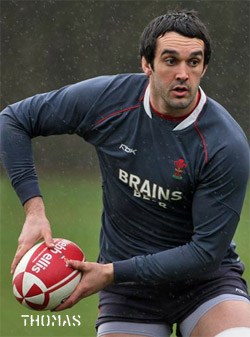 "Lock forward Jonathan Thomas, 27, who has 51 caps for Wales and is set to play in the second row against Scotland in the Six Nations in Cardiff on Saturday, wrote the offensive remarks during an exchange on Twitter yesterday morning with Ian Evans, one of his team-mates at the Welsh club Ospreys.
Evans wrote: 'Legs and ass are in bits, can't move.' Thomas posted in reply: 'U gotta stop hanging round with Nigel Owens!' [a top Welsh referee who came out in 2007]. Evans then made an apology of sorts on behalf of Thomas: 'For those ppl [people] who got the wrong end of the stick… it was from our savage training day yesterday, sorry about my friend fellow ppl.'"
Said Thomas to the Independent: "Nigel is a great friend of mine and there is absolutely no way I would say anything to him or about him publicly – or indeed privately – which I thought he would find personally offensive. There is no malicious intent in this message whatsoever. This was some childish banter between friends and I did not think for a moment that there may be other people out there reading it and/or taking it in the wrong way.  I made a very silly comment to something else that was written, but nevertheless, I would like to apologise to anyone who is or was offended by it. I have spoken to Nigel this afternoon and, as I knew at the time of writing, he is not offended and he remains a very good friend. I have now removed the offending comment and will be much more conscious of distinguishing between private jokes and what can be said in a public forum in future."
Homophobia in sports is currently making headlines in the UK after the rejection by the Football Association of an anti-homophobia ad.
Gay activist Peter Tatchell scolded Thomas: "Homophobic tweets are just as unacceptable as similar outbursts on blogs and message boards. This is not what we would expect from players such as Jonathan Thomas. These remarks are particularly disappointing as they come just weeks after Jonathan's former international team-mate Gareth Thomas came out to such public acclaim and admiration.  Many of us expected and hoped that this was a turning point and that Welsh rugby could kiss goodbye to homophobia. Sadly, Jonathan's proved us wrong."
Owens shrugged off the controversy: "I am very good friends with John Thomas and Ian Evans. It's just banter, it's been taken totally out of context, I think people are sometimes losing their sense of humour. I am disappointed that some people cannot see the humour in what people say. It [was] meant as humour and I have no issues with people pulling my leg like that, they are good friends of mine. I think people are trying to make a issue where there isn't one."