Uganda's Ethics Minister James Nsaba Buturo responded angrily to criticism from Barack Obama and Hillary Clinton of the country's "kill the gays" bill following yesterdays' National Prayer Breakfast.
Said Buturo: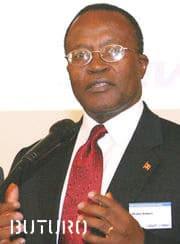 "Somebody should tell President Obama that the parliament is doing its
legislative duty in the interest of the people of Uganda…We cannot tell the Senate what to do. We cannot tell Congress what to
do. So why do they feel that they can tell us what we should do in the
interest of our people? It is totally unacceptable. Members of parliament have a constitutional duty to choose between what
the people of Uganda want and what others want, and I am sure they will
choose what the people of Uganda want."
In related news, Chairman of the House Foreign Affairs Committee Rep. Howard Berman introduced  a resolution (PDF) condemning the law. It was signed by more than three dozen members of Congress " including Committee Ranking Republican Ileana Ros-Lehtinen; House
Financial Services Committee Chairman Barney Frank (D-MA); Subcommittee
on Africa and Global Health Chair Donald Payne (D-NJ); Congressional
Black Caucus Chair Barbara Lee (D-CA); and Tammy Baldwin (D-WI),
Co-Chair of the Congressional LGBT Equality Caucus."