Or, I should say, the marriage rights you haven't even been given yet.
Between 125 and 150 people rallied at West Virginia's state capitol, demanding a constitutional referendum to define marriage as between a man and a woman: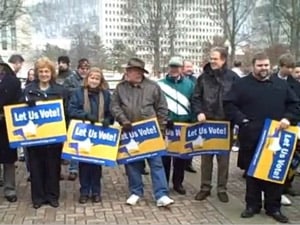 "The Family Policy Council of West Virginia, which organized the rally, says the Legislature is bottling up measures that would allow the vote.The crowd was addressed by speakers from national groups and by House Minority Leader Tim Armstead, R-Kanawha, who has tried to force a House vote on the referendum.The state chapter of the American Civil Liberties Union says no amendment is needed, since West Virginia law only recognizes heterosexual marriage."
NOM President Maggie Gallagher (above) made the trip.
Watch a clipreel from the rally, AFTER THE JUMP…
The rally followed a failed attempt earlier this week by the WV legislature to force a vote on a constitutional amendment banning same-sex marriage.