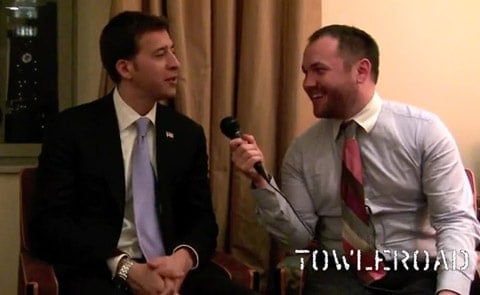 Alexi Giannoulias, Illinois State Treasurer and the Democratic candidate for U.S. Senate in Illinois (we've mentioned him here before), was in New York recently and sat down with Towleroad's Corey Johnson for a brief interview.
Giannoulias discussed his positions on "Don't Ask, Don't Tell', marriage equality, and what he plans on doing to move LGBT legislation forward in Congress if he's elected. Giannoulias also discusses whether he thinks outing candidates in political races is fair play.
You may recall that in the Illinois Republican Senate race primary, Giannoulias' opponent Mark Kirk was the target of an ad from his rival Andy Martin which claimed that Kirk is gay. 
Watch the interview, AFTER THE JUMP…