Former New York state senator and girlfriend-slasher Hiram Monserrate lost the battle to win back his state Senate seat to Jose Peralta yesterday in a landslide special election which featured an ugly campaign in which he ran on his anti-gay positions.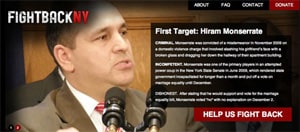 Buh-bye.
NYT: "…the election followed a fierce, if brief, campaign in which a debate over same-sex marriage, which Mr. Peralta favors and Mr. Monserrate opposes, often overshadowed discussions on issues that are vital to many of the largely Hispanic district's working-class and immigrant residents, like affordable health care and school overcrowding.
With 94 percent of the vote counted, unofficial returns from the overwhelmingly Democratic 13th State Senate District showed Mr. Peralta with 66 percent and Mr. Monserrate with 27 percent. The Republican candidate, Robert Beltrani, an administrative law judge, came in third with 7 percent."
Who's next?
FightBack NY writes: "In the next several weeks, we will together build a stronger, more robust campaign that will set its sights on where we can have the most impact for additional victories in the September primary elections and the November general elections. Each and every one of the remaining 37 New York State Senators who voted "no" to marriage equality-Democrats and Republicans-will be fair game.
Like we demonstrated over the past few weeks: our strategies will be smart, our tactics will be hard-hitting, and we will win a pro-equality New York State Senate in November."