Hawaii-based three-star Lt. General Benjamin Mixon won't be punished for a letter he wrote to the Stars and Stripes newspaper urging service members to contact congressmen and their chain of command and fight against the repeal of "Don't Ask, Don't Tell", the AP reports: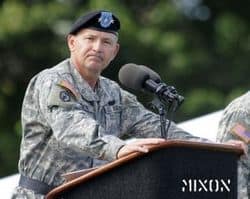 "Lt. Gen. Benjamin Mixon's civilian boss says the three-star Army general won't receive a letter of reprimmand or be forced to step down. Army Secretary John McHugh told reporters Wednesday that Mixon has been told that what he did was inappropriate. McHugh says he considers the matter to be closed.
Mixon is head of Army forces in the Pacific theater. He had urged troops to 'speak up' and urge political leaders not to repeal the ban."
Said Mixon in the letter: "It is often stated that most service members are in favor of repealing the policy. I do not believe that is accurate. I suspect many service members, their families, veterans and citizens are wondering what to do to stop this ill-advised repeal of a policy that has achieved a balance between a citizen's desire to serve and acceptable conduct…Now is the time to write your elected officials and chain of command and express your views. If those of us who are in favor of retaining the current policy do not speak up, there is no chance to retain the current policy."