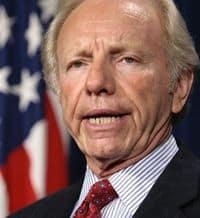 As expected, Joe Lieberman today introduced legislation that would repeal "Don't Ask, Don't Tell," one of the most controversial policies in the military's history. Eleven other senators signed on as co-sponsors of the bill, including Carl Levin of Michigan.
Lieberman has stressed in the past that the bill would work threefold: "It will repeal the law that prevents gay Americans from openly serving
in the military, prohibit discrimination against service members on the
basis of sexual orientation, and promote the establishment of Reserve
Officer Training Corps units at elite colleges and universities."
Lieberman and Levin confessed that there might be a need for a back-up plan should the bill not garner enough supporters to pass. From Politico:
"Lieberman stressed the support for a repeal of the bill among the
American people, but admitted that he's short of the 60 he'd need in
the Senate.
'We don't have 60 votes today-that's our battle,' he said. 'If the votes aren't there, a moratorium would be a good step.'"
In related news, a few hundred protesters advocating the repeal of "Don't Ask, Don't Tell" will gather in DC on Thursday.