UPDATED
Rep. Barney Frank claims he was talking about the Pentagon, not the White House, when he discussed opposition to the "Don't Ask, Don't Tell" repeal with The Advocate's Kerry Eleveld.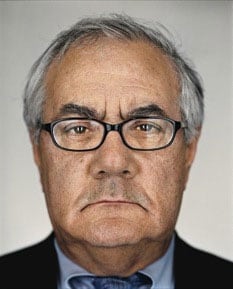 Wrote The Advocate: "Like many pro-repeal advocates, Frank has consistently pinpointed the National Defense Authorization Act as 'the only vehicle' for overturning the ban legislatively. When I noted that the White House has failed to designate the defense authorization bill over a stand-alone bill as its preferred method for repealing the policy, Frank responded, 'That's because they don't want it done this year, not because they want it done separately.'"
The Hill reports: "Rep. Barney Frank on Monday appeared to dispute a quote he gave saying that he believes the White House does not want a policy banning openly gay people in the military repealed this year…Frank told The Hill that he was talking about the Pentagon's stance, not the White House's position on the 'Don't ask, don't tell' policy.
'I said that about the Pentagon, the quote may have gotten garbled,' he said in a phone interview…Frank said that the White House has been 'ambiguous' about its desire to see the policy repealed this year but did not say they are openly against it like he believes the Pentagon is.
'I wish the White House was more adamant,' he said. 'I'm still waiting for the White House to speak out. When people say that they want to implement a change, their answer should be that they want to pass the bill.'"
And, well, "ambiguous" pretty much sucks as well.
In a new statement to Eleveld, Frank clarifies: "In a recent interview, I misspoke and garbled my answer to a question posed by reporter Kerry Eleveld. I was trying to cover too many issues at once and, in fact, I did not mean to imply that the Administration has opposed moving forward with the repeal of 'Don't Ask, Don't Tell.' However, the Administration has been ambiguous about it, and that ambiguity has allowed some to interpret Secretary Gates' argument for a delay in implementation as a delay in adopting the legislation. I believe that the Administration should make clear that it supports legislative action this year, and that while implementation is being worked out, it will carry out the policy in the way it was originally intended, which would reduce the number of discharges, in my view, by over 90%."