BLOG SWARM
Towleroad is participating in a blog swarm today with Daily Kos,
Open Left,
Bilerico Project,
Pam's House Blend,
Joe My God,
Michelangelo Signorile, Americablog, David Mixner,
Daily Gotham,
Culture Kitchen,
Taylor Marsh,
PageOneQ,
Dan Savage, Good as You, and others.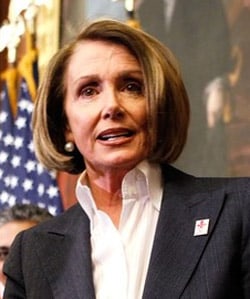 We're asking you to contact Speaker Nancy Pelosi and ask that she move the Employment Non-Discrimination Act (HR 3017) to a floor vote. 
The Employment Non-Discrimination Act, first introduced in 1994, would prohibit job discrimination against lesbian, gay, bisexual and transgender people. Said openly gay Office of Personnel Management Director John Berry last year: "If we can get ENDA enacted and signed into law, it is only a matter of time before all the rest happens. It is the keystone that holds up the whole bunch, and so we need to focus our energies and attention there." 
Last year, a vote was promised in August, September, October, and November, but nothing happened. A House committee delayed mark-up of the bill in late November and it has not been rescheduled. House Speaker Nancy Pelosi has told Democrats that she would not move controversial bills. The House Committee says it is ready to move, but Pelosi has done nothing, has offered no signal.
Meanwhile, millions of gay, lesbian, bisexual, and transgender Americans continue to suffer discrimination and harassment in the workplace, and continue to be fired from jobs simply because they are LGBT. In 30 states, people can still be fired from jobs because of their sexual orientation, and the same is true in 38 states for gender identity.
With a majority in both houses of Congress in favor of ENDA, now is the time to move the bill. 
Please join us in demanding that gay, lesbian, bisexual and transgender people be protected from job discrimination.
Click here to contact Speaker Pelosi. 
Please call Speaker Nancy Pelosi at 202-225-4965. 
Ask that the Employment Non-Discrimination Act, HR 3017, move to a vote. Please be polite, but firm.
After you call, please tell us how the call went in the comments. If you get a busy signal or hang up, let us know that too. Let's work together to let Speaker Pelosi know that we want action now!