Papers filed in a civil suit against Richard Izquierdo Arroyo, chairman of the South Bronx Charter School for the International Culture and the Arts, charge that the chairman failed to protect a student, James Pastrana, from Jared Alessandroni, a teacher who threatened to "out" him.
The NYDN: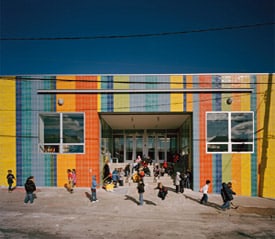 "The suit filed in Bronx Supreme Court earlier this week says teacher Jared Alessandroni repeatedly called Pastrana's son, now 10, 'gay' and twisted his arm in March 2009.
'There were a lot of sexually inappropriate comments directed toward my son,' Pastrana said.
The suit also names Alessandroni, who has resigned but denies the charges, and Principal Evelyn Hey, who had no comment. A spokesman for the charter's operator, Victory Schools, said the suit is baseless."
The NY Post has more: "A Bronx charter school is under fire from parents who say a teacher bullied kids — and even forced one child to tell his crush, a girl, that he was gay.
According to court papers filed this week, the teacher, Jared Alessandroni, 29, threatened to 'out' a straight 9-year-old boy, James Pastrana, to his class at the South Bronx Charter School for International Cultures and the Arts, unless James told his crush he was gay.
'I was so humiliated,' said Pastrana, who reluctantly scribbled the false confession in a note to the girl. 'It started to spread around the whole class and then everyone wanted to call me gay.'"