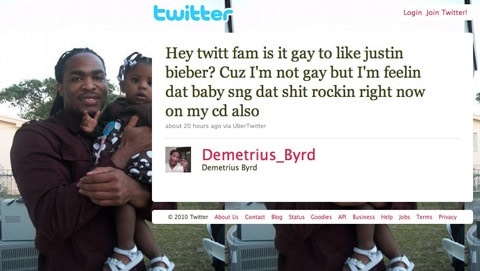 Noting that San Diego Chargers players have been fined in the past for their activities on Twitter, the Huffington Post theorizes that Chargers wide receiver Demetrius Byrd, who was cut on Monday, may have been sacked partially because he was Tweeting about 16-year-old YouTube phenom pop star Justin Bieber.
Writes HuffPo: "In follow-up tweets after his release, Byrd denied any connection. He first wrote, 'TO ALL U PPL WHO THINK I GOT CUT CUZ OF THAT TWEET FUCK YALL I'M PISSED…..THANKS TO U NO DATS DUMB.' He later added a longer message, saying that people 'need to get a life' and thanking San Diego Chargers GM for drafting him in 2009: 
"Just read this thing about me b n cut cuz I tweeted sumthin bout likin Justin Bieber I dnt like fool like dat I dnt swing that way I was talkin bout dat new song wit ludacris. But ppl need to get a life lol that's why San Diego cut lol C'Mon Son ppl a trip now u ppl run and quote this from me thanks AJ 4 drafted me makin my dream come to tru in a comma last draft wow but dat tweet I just asked my followers wat they think ppl can't ask shit wow God Bless Haters"
In a poll, 78% of HuffPost readers don't believe it was Byrd's 'Bieber Fever' which got him cut. I'd have to side with them.