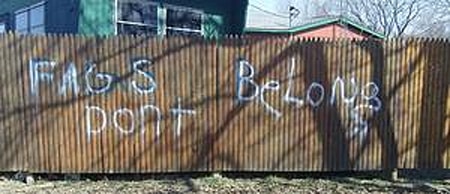 A gay campground south of Saugatuck, Michigan was vandalized this week: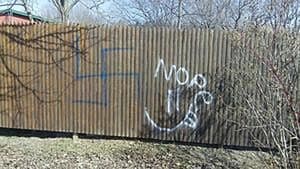 "Anti-gay remarks and a swastika were painted on a wooden fence along 118th Avenue west of 66th Street in Ganges Township.
'It's quite gentle out here so it's a surprise to have this,' Howard said as she looked over the green and silver graffiti saying 'Fags Don't Belong.'
Any Beke, who lives across the street from the campgrounds and works at the site, discovered the damage Saturday morning.
She's had to explain to her young children what the words mean.
'This area doesn't accept this type of behavior,' Howard said.
This is the first vandalism incident in the 10 years Howard and Michael O'Connor have owned the adult, members-only resort.
The site has been a camp for 50 years and a known gay and lesbian resort for 40 years. It has 165 sites for campers, RVs and tents, two one-bedroom cabins, 16 one-room sleeper log cabins and a five-bedroom bed and breakfast and vintage travel trailer rentals. A camp store welcomes visitors.
People in passing vehicles have yelled anti-gay slurs before, according to neighbor Robert Wojcik, but nothing as serious as the recent vandalism."