Washington Post health care FAQ: What time is the vote (sometime after 8 pm), what are the potential stumbling blocks still left, other questions…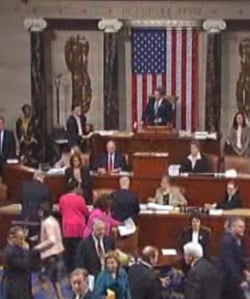 A protester from the House gallery shouted "kill the bill" to applause from the GOP this afternoon.

 Following slurs hurled at Congressmen by teabaggers yesterday, Capitol police moved protesters away from the House steps: "Police moved protestors away from the steps of the House side of the Capitol, where House members will enter at 1 p.m. today to vote. By 11 a.m., a crowd of about 100 had gathered, singing patriotic songs and chanting 'kill the bill.'
But when police told them they had to move back from the House steps, most moved to the front of the Capitol, with a few stragglers parking out on the grass several hundred feet away."

 NYT live blog here.

 Rep. Bart Stupak is a yes: "The Michigan Democrat, in citing the president's executive order further outlining prohibitions against the use of federal funds for abortion, announces that he will vote for the legislation. 'The real victory here or the real winners here are the American people,' Mr. Stupak concludes, noting that 31 million more people would receive health-care coverage.
On the president's executive order, colleague Sheryl Stolberg notes: 'The White House, sounding a note of confidence about the passage of the health care bill, has just announced that after its passage, Mr. Obama will sign an executive order that will reaffirm the measure's ''consistency with longstanding restrictions on the use of federal funds for abortion.'" Stupak press conference HERE.

 Some Republicans chose to distance themselves from the slurs used by teabaggers:
"On CNN's 'State of the Union,' Rep. Mike Pence (R-Ind.) denounced the use of such slurs 'in the strongest terms.'
House Minority Leader John Boehner (R-Ohio), said on NBC's 'Meet the Press' that the 'isolated incidents' were 'reprehensible.'
Later on the same program, Michael Steele, the Republican National Committee's first black chairman, agreed that the incidents were 'reprehensible,' and added, 'we do not support that.'
'What you had out there yesterday were a handful of people who just got stupid and said some ignorant things,' Steele said."

 Below, Rep. Devin Nunes (R-CA) defends racist and homophobic slurs against lawmakers. Rep. Tim Ryan (D-OH) denounces them.