The first annual International Gay Polo Tournament, sponsored by the Gay Polo League, will take place on April 3 at the Grand Champions Polo Club in Wellington, Florida, South Florida Gay News reports: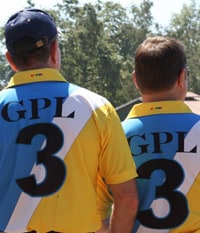 "GPL is the sole international polo league to be primarily comprised of lesbian and gay players. Founded to enable gay men and wo men to share their interest in this unique sport, GPL has created a community of passionate, like-minded athletes…The 1st Annual International Gay Polo Tournament will have as one of its sponsors Equestrian Life, a media company dedicated to the equestrian community and horse lovers across all breeds and disciplines. They will not only sponsor one of the competing teams, but also provide media coverage for the event, including on the web."
Said a representative to the NY Post: "It's a very macho sport. The top four players — one on each team– are nongay. [The rules are the same as with nongay polo, and the ponies are the same.] Of course, the uniforms are a little chic-er . . . the balls are a little nicer, too."