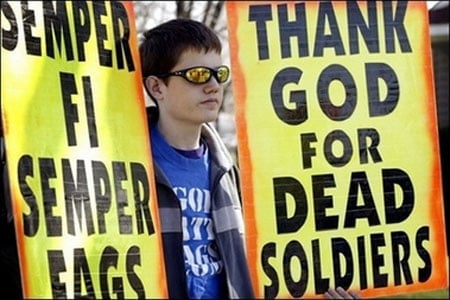 The case of a Maryland man whose slain soldier son's (Marine Lance Cpl. Matthew Snyder) funeral was targeted by Fred Phelps and his Westboro Baptist Church picketers will be heard by the Supreme Court. As you may remember, the man was awarded nearly $11 million in October 2007 in punitive damages, damages for emotional distress, and compensation.
The WBC thumbed its collective nose at that judgment, which was later cut in half, and finally thrown out entirely by the U.S. Court of Appeals.
The Phelps clan believes God is killing soldiers because of the U.S.A.'s tolerance of homosexuality.
The WaPo reports: "The case will seek to balance a group's free speech rights with the rights of private individuals to be protected from unwanted demonstrations and defamatory remarks. A federal appeals court said the church's protests were 'utterly distasteful' but protected because they were related to 'matters of public concern.'The case was one of three the court announced it would be considering in its new term that begins in October."
Watch a news report about Phelps' actions at military funerals (not specifically Snyder's),
AFTER THE JUMP…