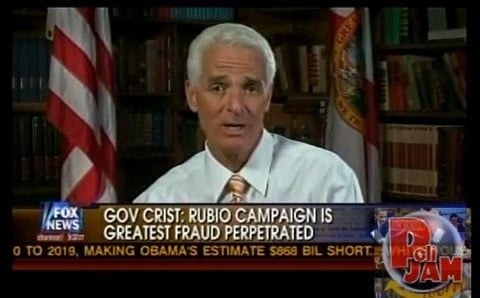 Last night, Florida Governor Charlie Crist went after his challenger Marco Rubio's $130 back wax on Greta van Susteren's FOX News show. Rubio leads Crist in polls.
Said Crist: "He's trying to pawn himself off as a fiscal conservative. And yet just in recent weeks, two weeks ago it has come out in news accounts he had a Republican Party of Florida credit card that he charged $130 haircut, or maybe it was a back wax — we are not sure what all he got at that place…I don't know what it was. Initially we were told it was a haircut. And then he said it wasn't a haircut. Then he had the gall to go on Neil Cavuto's show and said it was his money. It was a credit card from the Republican Party. It was party donors' money….The detachment from reality is stunning to me. And to try to say that you're a fiscal conservative, yet you spend $130 for maybe a haircut and maybe other things, I don't know what you do at a salon when you are a guy. I get my haircut for $11 from a guy named Carl the barber in St. Petersburg, Florida where I grew up. And to me that's real fiscal conservatism." 
Crist may claim to have no idea what a guy does at a salon, but he certainly knows about detachment from reality.
Watch, AFTER THE JUMP…