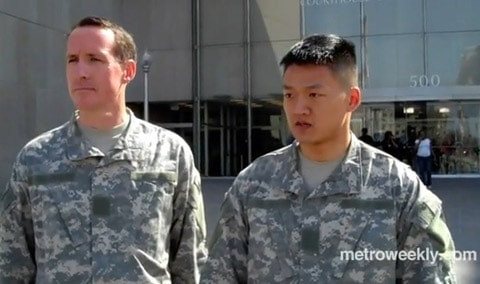 Lt. Dan Choi spoke following his and Cpt. Jim Pietrangelo's court appearance in D.C. today. As I mentioned earlier, both Choi and Pietrangelo pleaded 'not guilty' and opted for a trial rather than to pay a fine. The trial will take place on April 26.
Said Choi, in part: 
"There was no freer moment than being in that prison. It was freeing for me, and I thought of all of the other people that were still trapped – that were still handcuffed and fettered in their hearts. And we might have been caged up physically, but the message was very clear to all of the people who think that equality can be purchased with a donation, or with a cocktail party, or with tokens, that are serving in a public role. We are worth more than tokens. We have absolute value. And when the person who is oppressed by his own country wants to find out how to get that dignity back – being chained up and being arrested – that's how you get your dignity conferred back upon you. And so I think that by actions, my call is to every leader – not just talking gay leaders – I'm talking any leader who believes in America, and the promises of America can be manifest. We're gonna do it again. And we're going to keep doing it until the promises are manifest. And we will not stop. This is a very clear message to President Obama and any other leader who supposes to talk for the American promise and the American people. We will not go away."
Watch MetroWeekly's video of Choi's remarks, AFTER THE JUMP…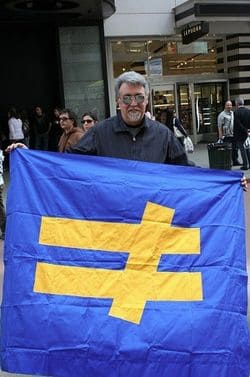 AmericaBlog reports that the Human Rights Campaign was "on lockdown" today for fear of sit-ins from protesters:
"Apparently HRC is on lockdown, out of fear that gays civil rights advocate, angry at the organization for providing cover for the President's and the Congress's in action on DADT and ENDA, might try to stage a sit-in. I hear that even staff had to use key cards to get into the building, as everything was locked up tight (normally the front door is open).Locking the building down like the gay CTU is certainly one option. Another is simply doing your job.NB "Inaction" is incorrect. The White House is quite literally not interested in doing DADT this year. And HRC is publicly misleading the community about it. That's why Barney Frank had to come out last Monday and ask the White House, publicly, to say that it wants DADT repealed this year."
Wayne at World of Wonder has a nice selection of shots from this afternoon's small protest in support of Choi and Pietrangelo in New York's Times Square, including the shot inset here of Rainblow Flag creator Gilbert Baker with his latest banner.
Watch MetroWeekly's video of Choi's remarks, AFTER THE JUMP…