Abercrombie & Fitch just landed on Corporate Responsibility magazine's first-ever "Black List" for the least transparent companies in terms of their operations, but somehow this budget tidbit has leaked.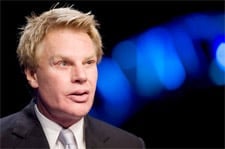 New York Magazine's The Cut reports on a pay-out to CEO Mike Jeffries:
"His 2009 plane expenditures — for personal travel alone — haven't been revealed yet. However, the company has agreed to pay him a lump sum of $4 million for limiting his use on the jet to $200,000 worth of personal travel. If he goes over, he must reimburse the company. This deal might be worth it for Abercrombie, since Jeffries's contract runs through 2014 and he was previously allowed unlimited personal use of the jet. He must sure enjoy his flights. What do they have on the Abercrombie jet, anyway? Naked people riding elephants?"
Apparently Jeffries use of the jet for personal travel in 2008 cost the company $1.1 million.
Previously…
The Original Abercrombie Zombie? [tr]