Melissa and Tammy Etheridge are separating, People reports: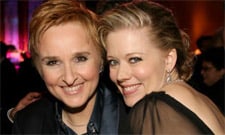 "The former couple add in a statement: 'We ask for consideration and respect for our family as we go through this difficult period.'
Melissa, 48, and Tammy (formerly Tammy Lynn Michaels) exchanged vows in Malibu in September 2003. Tammy, 35, gave birth to their children – son Miller and daughter Johnnie Rose – in 2006, after Etheridge was diagnosed with breast cancer in 2004.
Etheridge is also the mother of two children, Bailey, 13, and Beckett, 11, with former partner Julie Cypher.