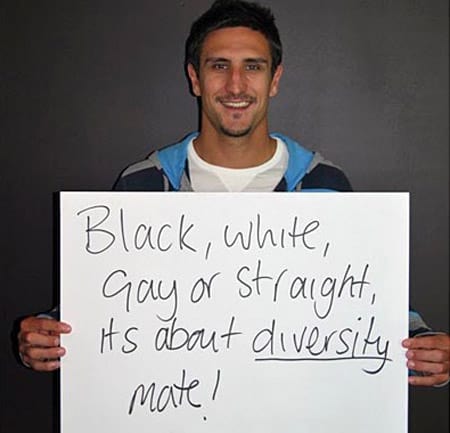 Approximately 30 well-known players from the Australian Football League have joined a campaign against homophobia to be launched in May, The Age reports:
"The 'inclusion and diversity' campaign boasts some of the biggest names in football, including Neil Balme, Joel Selwood and Brownlow medallists Jimmy Bartel and Adam Goodes…The sportsmen and coaches have been photographed holding handwritten signs calling for acceptance and understanding of homosexuals.
Adelaide player Brett Burton is pictured with a placard that says: 'We all have our little differences – celebrate them!' Geelong football manager Neil Balme's reads: 'Homophobic His-story!' Bulldogs ruckman Will Minson wrote in 'Nil bastardum carborundum', which is mock-Latin for 'don't let the bastards grind you down'…The Players' Association says footballers know how it feels to suffer negative stereotyping and want to help another group of maligned individuals.
Though not scheduled to be launched until closer to the International Day Against Homophobia Day, held annually on May 17, the project is already considered a success because so many players and coaches are involved."
Check out some of the players' photos here.