The Secretary of the Army called it "counterproductive" on Wednesday to discharge service members who speak to him openly about their sexual orientation as the military reviews its plans on how best to implement "Don't Ask, Don't Tell", the NYT reports: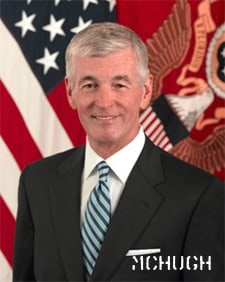 "Although Mr. Gates announced revised standards last week that make it harder for the military to discharge service members whose sexual orientation is revealed by third parties, gay men and lesbians who willingly reveal their sexual orientation still face ouster from the military, at least as the law is written.But Mr. McHugh, who spoke at a breakfast with Pentagon reporters, said it made no sense to pursue discharges of service members as he speaks with them about the change in policy. Mr. Obama, Mr. Gates and Admiral Mullen have all asked commanders to assess opinion within the military about the change in law. Mr. McHugh said it would be "counterproductive" to 'take disciplinary action against someone who spoke with me openly and honestly.' He said the Pentagon was still trying to devise a way to more formally poll large numbers of service members about their views on changing the law."
Meanwhile, the Department of Justice is furiously defending DADT using outdated quotes from Colin Powell, and misrepresenting the views of Palm Center experts in a brief filed earlier this week.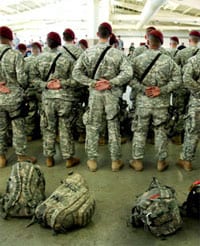 In related, baffling news, check out this piece from Chris Johnson at DC Agenda about how the Justice Dept. is distorting the views of DADT experts Nathaniel Frank and Aaron Belkin to fit its defense of the military gay ban.
Said Frank: "The way they portrayed me is preposterous and I'm not sure that any person in good faith hearing what I had to say could conclude what the [Department of Justice] concluded in their [request for] summary judgment. I specifically said having a concern about privacy is not irrational, but using that privacy concern as an argument for the need to ban gays is irrational."
The Advocate's Kerry Eleveld asked White House Press Secretary Robert Gibbs yesterday whether the White House is ducking pursuing the repeal of "Don't Ask, Don't Tell", as has been suggested by Rep. Barney Frank (D-MA) and others.
Watch Gibbs get defensive about it, AFTER THE JUMP…