Washington D.C. Mayor Adrian Fenty is apologizing after his office awarded a "Certificate of Appreciation" to Regina Griggs, Executive Director of Parents and Friends of Ex-Gays and Gays (PFOX).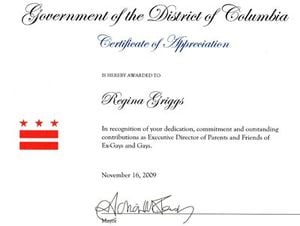 MetroWeekly reported yesterday: "PFOX's April 28 press release praises Fenty for the honor, and quotes PFOX president Greg Quinlan.
'Regina has served as executive director without pay. Instead, she prefers that donations be used to develop resources for families and teens, to promote unconditional love for all regardless of sexual orientation, and to seek equal access and protection for the ex-gay community,' Quinlan says.
A statement from the mayor's office regarding the appreciation is pending."
The Gay and Lesbian Activist Alliance of Washington D.C. immediately demanded answers.
Today, the WaPo reports: "D.C. Mayor Adrian M. Fenty apologized Thursday over his decision to issue a certificate of appreciation honoring the leader of the ex-gay movement, which believes homosexuals can be rehabilitated…afara Hobson, a Fenty spokeswoman, called Griggs' award a 'staff-level error.'
'We apologize for the error as it runs contrary to the mayor's vision of a more open and inclusive city,' Hobson said. 'The mayor is proud of his ardent support of the LGBT community.'"